Puppy
Posts: 7
Joined: 14 Aug 2021, 22:51
First Name: Christa
Member
Posts: 509
Joined: 21 May 2020, 21:31
First Name: Kat
Dog #1: Snoop (RIP)
is a: P/S Mini Dog
Born: 23 May 2004
Dog #2: Chelsea (RIP)
is a: P/S Std Bitch
Born: 10 Jul 2005
Dog #3: Ozzy
Born: 30 Jul 2020
is a: B/S Mini Dog
Awww that's too cute! I love his little lumberjack shirt. He looks proud and comfortable in his gear
I live in a colder climate and my boy has a few hoodies and coats and boots too! It started with my elder girl, she would get chilly in the winter, now I think the clothes are just made for mini schnauzers lol. They sport them so well and keeps them warm in very cold weather.
I also found (especially when my boy was young) a tighter fitting hoodie would help him feel safer and often when I tried on his clothes, he would just snuggle up and have a nap.
Puppy
Posts: 7
Joined: 14 Aug 2021, 22:51
First Name: Christa
Yes, with the winter predicted to be cold and snowy we have a few sweaters are on order!
Moderator
Posts: 4903
Joined: 19 May 2011, 16:58
First Name: Leigh
Dog #1: Magic
is a: P/S Mini Bitch
Born: 20 Apr 2010
Dog #2: Trilby
is a: P/S Mini Bitch
Born: 15 Mar 2012
Dog #3: Pip
Born: 21 Feb 2014
is a: P/S Mini Bitch
Location: North Yorkshire
Contact:
He looks very cute in the lumberjack shirt
Our schnauzers have Hurtta jackets for when it gets very cold although that is not often here luckily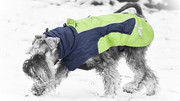 Member
Posts: 509
Joined: 21 May 2020, 21:31
First Name: Kat
Dog #1: Snoop (RIP)
is a: P/S Mini Dog
Born: 23 May 2004
Dog #2: Chelsea (RIP)
is a: P/S Std Bitch
Born: 10 Jul 2005
Dog #3: Ozzy
Born: 30 Jul 2020
is a: B/S Mini Dog
Where we are the snow is often wet and creates huge snowballs or iceballs all over their legs and belly. So in crazy weather like that I made my boy (altered) a few little nylon jumpsuits to fit him and his long legs. I only have the front legs covered because I need the length for legs on the cheaper gear (I sew the back legs on the front as an extension) or just cut off the back leg sleeves because he's really not a fan of 4 legger suits. But I'll place a winter padded harness on top to take him for a walk like that to keep the snowballs off and I find them very useful. He can play around, roll around and jump in the snow in the back garden without the huge meltdown (which must be very uncomfortable).
These are the little nylon suits we use that I altered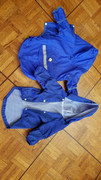 And winter harness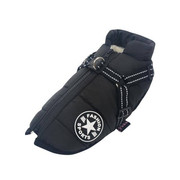 Ozzy takes size XXL or 2X