For anyone with reactive dogs I just wanted to do a post to give you hope it can be changed.
About a year and a half ago I started games based concept training with Jasper. At this point away from the house he was super vigilant to everything, he wasnt able to accept treats as a reward and couldnt settle anywhere. If there was a dog in sight no matter the distance it was impossible to get his attention away from it. Any sound of a child he would woof, he could be at the back of our house and woof hearing the children across the road. The sight of a child especially one moving would set him off into a woofing lunging frenzy. In the car he would woof at anything coming near the car. I took him into Pets at home around this time and had to leave quickly as every person he saw he woofed and lunged at in the enclosed space and hes stranger wary.
We've just come back from a boating holiday on the Norfolk broads where there were more distractions than you could shake a stick at and we hardly had any melt downs.
This is him on our last morning when we went out for breakfast. A year and a half ago there is no way he would have even laid down and settled like this in our garden or even someone else house he was used to going to, never mind in a place hed never been before.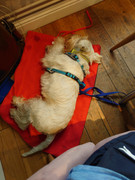 He's still got loads of room for improvement, he has daily natural calming supplements, we still do lots of training and I try to manage his environment as much as possible eg we went to eating places as they first opened and chose quiet corners to limit his view, and try to avoid things that I know will cause a reaction from him. Theres no way he could cope walking into a crowded pub or cafe and sitting at a table with lots of people passing by all the time or a dog at the next table, or go to a park next to the childs play area, or go to a place with lots of other dogs, or cope walking through a crowd of people, I dont let strangers come near him if they ask to say hello. Yes, he also still woofs at the postman but some things you can live with
and other things can still be improved but it will take time.