It was actually a week of a lot of firsts for Jasper. We had the 3.5hr ferry from Guernsey to UK which didnt arrive until late evening so was too late for us to set off for our final destination, so he got to stay in his first hotel.
He was very good didnt mind the lift, didnt woof at any of the strange noises, didnt cock his leg anywhere
. I was a bit concerned he might with him being intact and if there'd been a dog in the room previously. Loved the bacon, eggs, sausage and toast breakfast at the buffet breakfast. The only thing that spooked him was being on the first floor and looking out of the window, he kept peeping then backing off. We live in a bungalow and I realised he'd never actually been in a building any higher to look out of a window
He'd obviously had time to process the info as we were on the 2nd floor on our return journey and happily jumped on the chair to look out of the window
Then we had a very long car journey to Norfolk where we were hiring a boat on the Norfolk Broads. Hes never been on a boat before (the ferry he's in a crate in the car and doesnt see anything) and decided there was no way he was getting on
He had to get on as we had to do our training run so I had to pick him up. I never knew how tight a dog could wrap its front legs round your neck and back legs round your waist like a child would. If I'd let go he wouldnt have fallen he was gripping so tight
He was fine in the boat but then wouldnt get off
Our first full day he was brave enough to step on the first step but even the sight of ducks couldnt get him any higher.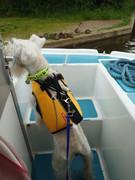 By the end of the 2nd day he was fine at getting on and off and was very good and not going up on top when I was mooring up or was getting on and off the boat and waited to be told when he could get off.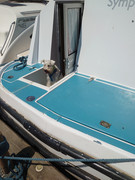 I've worked a lot with him on his reactivity to children, dogs, noises, and strangers coming close. On a night all the boats are very close to each other some times side on, or you were alongside a footpath with people and dogs walking past. A year ago he would have woofed at every movement near the boat that he could see and woofed at noises and screamed to go see any dogs that came past. He was amazing he didnt woof at noises not even the sound of children. Sometimes we had to close our curtains down one side to block his vision if it was busy so he wouldnt woof and he would give little whines if he saw a dog but other than that no woofing other than a stranger coming directly up to the boat and talking or someone coming on the boat.
He went into his first pubs and was quiet and settled while we ate. He was getting bits of steak though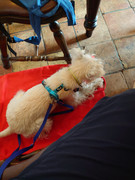 Loved looking out as we went along.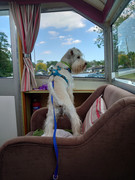 But also happy to chill when the scenery got boring for him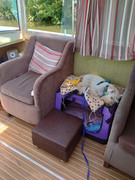 Ducks and geese he mostly ignored and there were loads of them. He didnt like swans and kept away, dont blame him every time one saw him they would come hissing and trying to peck at him even when he was on the boat, vicious things.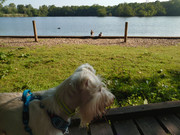 Me and him looking out at breakfast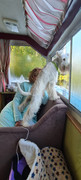 and what we were looking at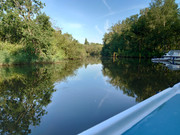 I'm guessing white schnauzers arent very common in Norfolk, we had loads of people asking if he was a schnauzer and they'd never seen a white one before and how handsome he was, of course we didnt disagree
A good time was had by all and the weather was beautiful as well as the broads, although the 33C on the friday was a bit hot
He actually stood still so I could keep wetting him down, normally he really doesnt like getting wet.