Welcome to the Forum Cheryl
I am sorry to hear about Abby and hope that you will soon be able to bring the new little puppy into your family to ease some of the pain.
I am not sure how to comment as regards the puppy coats - really the breeder will be the best one to advise you in terms of grooming and how the coats will develop. What age are the puppies and have you seen the mother? Also when you say that you groomed Abby every six weeks, was this hand stripping? Some miniature schnauzer coats can be better than others for hand stripping but this is something that the breeder should know from their knowledge of the breeding lines they have used and the coats of the parent dogs.
All the miniature schnauzer puppies we have introduced to our family and those we have bred in the past did have quite thick soft jackets by about 6-7 weeks of age and this would be stripped back from 8 + weeks of age to allow the harsh top coat to come through. I would not have described them as curly coats though. At birth and up to about three weeks the jacket is much less thick and very straight as with all young pups. Here are a few photos to show the changing coat in a couple of our pups from years ago.
This was at about 4 weeks of age: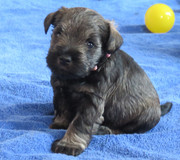 And about 10 days later: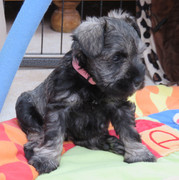 And at about 7 weeks old: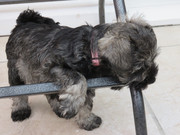 And another photo of a different puppy from the same litter at 8 weeks of age to show the coat better: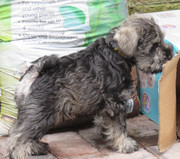 As you can see the coat is thick but not really curly