Schnauzerluv

wrote:

↑

12 Jun 2021, 17:20

Love it, he is such like a puppy.....so cute!
I think hes an eternal puppy, he still bounces like one
So proud of my boy this weekend
We'd been invited to a 40th birthday BBQ. There were to be around 40 people as well as Jaspers nemesis children, and Jasper was coming with us. I have to admit I was anxious about how well this was going to go hes never been in a situation like this before, and wouldnt have been surprised if I'd had to leave with him after 5 mins based on his past reactions to children and all the other new to him distractions. I have been keeping away from children so he couldnt rehearse any bad behaviour.
Hes been making great improvements at making good choices and improving his behaviour. If I needed proof / convincing that concept training of training for the situation and not in the situation works then yesterday was it. We arrived and I kept him walking around in the drive for around 5 mins with a few people milling around, no woofing and was happy to have a stroke from a stranger and was happy to take treats. We then moved closer to the activity with a bolt hole of an open garage close by if needed. The first child came in sight (there were around 10 of them at various ages up to around age 10) he looked but I called him using the Distract,Mark, Treat he came to me, we went in the garage
We then hung around the there for another 10 mins or so, one child came within 10 feet and got woofed at but then he was ok.
We then moved into the garden under a tree about 20-30ft from where the nearest people were sitting. I'd brought his mat that weve been practicing settling on in the garden and going out in the car so we put it into action. The distractions around apart from running children were children on a trampoline, helium balloons blowing about, footballs being kicked about, gazebos,childs buggies, bbq smells and smoke, and lots of people he'd never met before. He was a bit ants in the pants to start with but no barking or lunging at anything and was taking treats and focusing on me
We did have a few incidents where children came racing up in his direction to get a football or just running and he woofed and lunged but he took notice of me almost straight away and was able to disengage and settle back down
One incident of that happening a few months ago he would have been over threshold and would have been constant barking and I would have had to take him out of the situation.
He even laid down and chewed on a tripe stick.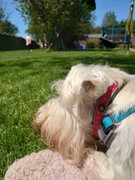 When everyone was eating he had his own little sniffari finding bbq chicken that I scattered about.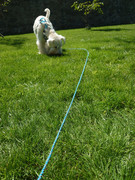 Going back to Oct last year I posted this photo when I was doing the training in the situation for disengagement. I couldnt get his attention on me from a dog half a mile away on a beach or him take any treats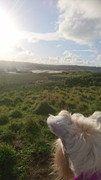 One of Jaspers happy calm behaviours is to lay on his side and lift his back leg up for a stroke on the inside of his leg. He does this a lot at home if hes having cuddles or even if you just walk towards him he lays down for a leg stroke. He did this twice yesterday while we were there
it only last about 15 seconds but amazing he did it from a dog who even struggled to sit in an unfamiliar environment.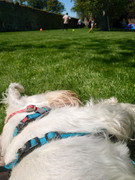 It did take a lot of work on my part to constantly manage his environment and keep him focused on making the right choices, but he did fantastic way better than I was expecting, so proud of him. We've still got a long way to go but his brain is most definitely getting rewired and hes now starting to be able to calm himself and think about what to do rather than just instantly reacting as though something is bad